This item is eligible to receive a discount of 100% during checkout when you enter the code "stgmaasplus01" during our stgmaasplus01 which ends on Feb 01, 2024.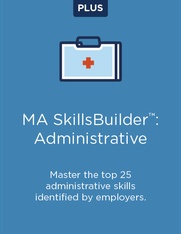 MA SkillsBuilder™: Administrative Plus
MA SkillsBuilder™: Administrative Plus an all-in one resource for learning, practice and assessment of the top 25 administrative (front-office) skills identified by employers - PLUS - 7 additional modules providing comprehensive coverage of foundational content to support the knowledge required for today's medical assistants and medical administrative assistants.
Foundational + Skills Modules:
Position of the MA in Health Care
Legal Fundamentals and Medical Ethics
Administrative Medical Assisting Knowledge
Communication
Telecommunication
Overview of Administrative Responsibilities
Patient Registration
Scheduling
Beginning the Visit
Ending the Visit
Highlights of Financial Tasks
Coding the Visit
Billing the Visit
Administrative Office Functions
Key Features:
Real-life EHR scenarios
Variety of reflection activities associated with the patient experience
Activities tied to the case studies
End-of-module quizzes
Skills checklists
And more!