This item is eligible to receive a discount of 100% during checkout when you enter the code "stgmaasplus01" during our stgmaasplus01 which ends on Feb 01, 2024.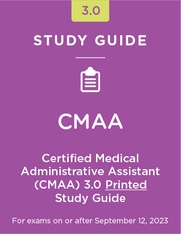 Certified Medical Administrative Assistant (CMAA) 3.0 Printed Study Guide
*Use for preparation for exams taken on or after 9/12/23 *
Based on the most recent analysis of duties and knowledge required of medical administrative assistants, this printed study guide tutorial helps prepare you for the National Healthcareer Association (NHA) Certified Medical Administrative Assistant (CMAA) exam. *Printed materials will be mailed to your shipping address. This printed study guide includes:
205 pages of content with Case Studies
Chapter Quizzes
Practice Activities
Professionalism Tips
Glossary
*The purchase of NHA exam preparation materials is not required to sit for any NCCA-accredited certification exam and use does not guarantee a passing score on an exam. All NHA exams are NCCA-accredited.