This item is eligible to receive a discount of 100% during checkout when you enter the code "stgmaasplus01" during our stgmaasplus01 which ends on Feb 01, 2024.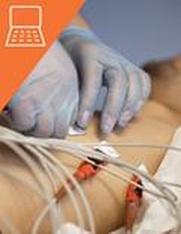 Certified EKG Technician (CET) Online Study Guide 2.0
Prepare for the Certified EKG Technician (CET) exam with an engaging online study guide. This online study guide provides contemporary learning tools such as interactive games, quizzes, flashcards and professionalism tips from experts in the field.
*Online materials can only be accessed on your computer or tablet.
Included Modules:
Safety Compliance and Coordinated Patient Care
EKG Acquisition
EKG Analysis and Interpretation
Additional features of the online study guide include:
Instructional lesson content written to align with the Certified EKG Technician (CET) exam.
Practice drill questions and interactive games covering all basic and necessary job skills.
Quizzes after each content module to assess topic comprehension.
Audio narration for each page and video.
Professionalism tips that provide insights on important soft skills.
Video enhancements to reinforce information presented in the modules.
Audio pronunciation of glossary terms.
Other items you might be interested in