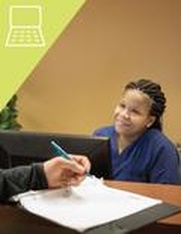 Certified Billing & Coding Specialist (CBCS) Online Study Guide
This one-of-a-kind online study guide tutorial engages and helps prepare candidates for the Certified Billing & Coding (CBCS) exam and is aligned to the National Healthcareer Association (NHA) CBCS exam blueprint.
*Online materials can only be accessed on your computer or tablet.
Ideal for preparation this study guide includes five chapters along with three case studies and a summary section.
Assessed Concepts
Regulatory compliance
Claims processing
Front-end duties
Payment adjudication
Apply knowledge of coding
This engaging online study guide includes:
Instructional lesson content
Audio, video and animations
Pop-up questions in each chapter
Review questions – 50 practice drill questions and 17 case study questions
Other items you might be interested in