This item is eligible to receive a discount of 100% during checkout when you enter the code "stgmaasplus01" during our stgmaasplus01 which ends on Feb 01, 2024.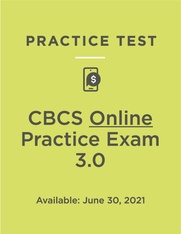 Certified Billing and Coding Specialist (CBCS) Online Practice Test 3.0
Prepare for the Certified Billing and Coding Specialist (CBCS) exam with immediate feedback from the CBCS online practice test. The CBCS practice tests come with three unique versions.
*Online materials can only be accessed on your computer or tablet.
Assessed concepts include:
The revenue cycle and regulatory compliance
Insurance eligibility and other payment requirements
Coding and coding guidelines
Billing and reimbursement
Practice Test Details
There are four unique versions of the practice test to evaluate students' knowledge of CBCS principles.
The Baseline (1 attempt) and Final Practice Test (1 attempt) are timed (3 hours), without rationales, to mimic the "experience" of sitting for the National Exam, with 100 questions, plus 25 pretest items.
The Practice Tests (4 total attempts) contains 100 questions, are not timed, contain rationales, and Focused Review (Remediation).
Online Practice Tests can be accessed from any Internet connection, offering candidates the flexibility to test anytime.
Practice Tests are aligned to the NHA test plan and work in conjunction with the CBCS study guide.
Coding manuals (ICD-10-CM, CPT®, and HCPCS) will be required to sit for the exam.